Welcome to my installment of
"Grow Your Blog!!! 2015
." This is hosted by Vicki of 2 Bags Full and she was sweet enough to include me. Thank you Vicki!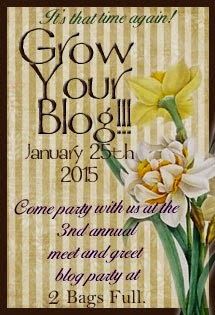 I started this blog in April of 2014 to chronicle a quilting habit that was ignited in November of 2012. You can read a rather long post about me that I wrote for an Around the World Blog Hop
HERE
.
Just in case you do not want to read my mega "About Me" post, I'll include a little bit here.
I'm Gayle and I reside in Georgia. I have a husband and two twenty-something sons. Son #1 lives in Alabama and is engaged to be married in March. Son #2 lives at home with his super-shedder White German Shepherd Dog. We also have an adorable Jack Russell Terrier and an outside only calico cat.
I started quilting heavily because I had more time and energy to devote to a hobby once I was finished home schooling my two boys. I also work about 3/4 time at our commercial general contracting firm.
I consider myself a Modern Quilter but I love all kinds of quilting styles. I have been a member of a traditional guild for one year and I love the fellowship. I attended my first quilting retreat last weekend with this group. I have been a member of a modern guild since September 2014.
I blog for several reasons:
1. To keep a personal quilting journal.
2. To share my journey with family and friends far and wide. Besides Hubs and Son #2 all my family is far and wide.
3. To encourage newish quilters like myself. I became a voracious quilt blog reader before I jumped in and I am fascinated by what each level has to offer.
4. To participate in the blog and IG events that looked so fun when I was just a reader.
5. And once I picked up a couple of Bloglovin followers and got a few comments I became a bit hooked on cultivating my blog for readership. Who, honestly, doesn't like the occasional ego stroke?
Here is a sample of things I have made:
Here is a sample of the Pedals I push:
Thanks for Visiting.